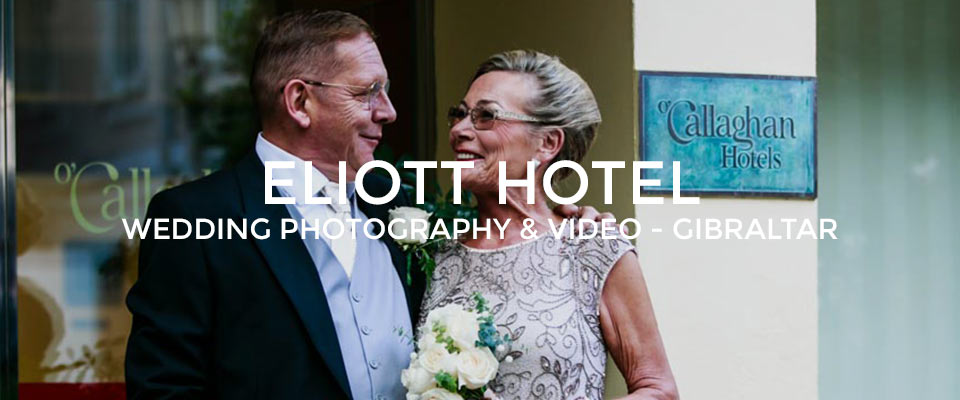 Weddings are available at the Eliott Hotel wedding venue in Gibraltar. The O'Callaghan Eliott Hotel Is Licensed For Civil Weddings. and the hotel boasts several locations for your marriage ceremony to take place including The Rooftop Restaurant & Pool, The Bay or Rock View Rooms, The Tercenary Suite and The Trafalgar Suite which features 1 or 2 bedrooms with a large living-dining space which is spacious enough to host an intimate reception.

The O'Callaghan Eliott Hotel wedding venue is situated in the very heart of Gibraltar. It's literally just around the corner from Main Street and all the shops, cafes, pubs, bars and restaurants. From the hotel, almost everywhere is just a walk away. So, you won't need to worry about transport unless you plan on doing an independent tour of the rock or if you're driving across from Spain.
The Eliott Hotel Wedding Photography and Videography
If you think you would like me to be your wedding photographer or videographer at your wedding venue in Gibraltar then I would love to hear more about you both and what you have planned for your wedding day or Elopement? Please use the WhatsApp icon below or the quick contact form below and I will get back to you.
For more information about the hotel contact The Eliott Hotel on +350 200 70 500 or eliott@ocallaghancollection.com https://www.eliotthotel.com
---
The Eliott Hotel Wedding Venue
26/10/2012