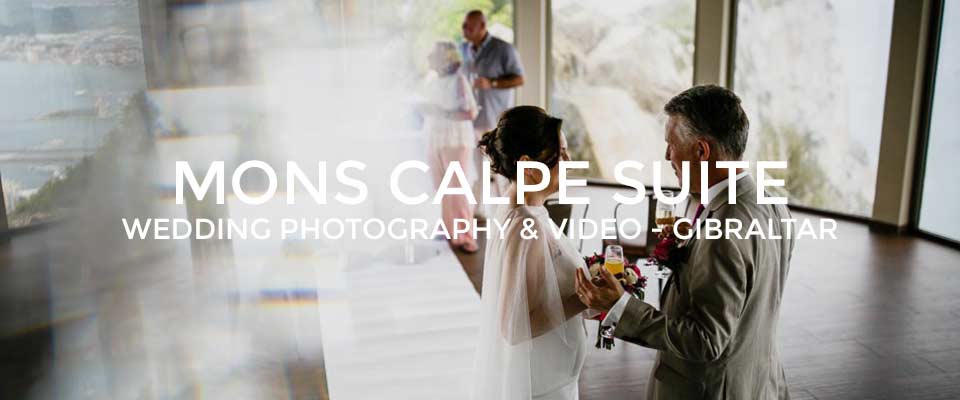 Mons Calpe Suite Wedding Photography and Videography
If you are looking for a venue your guests will talk about for years to come, the Mons Calpe Suite on Top of the Rock will give you a wedding to remember. I can offer Mons Calpe Suite wedding packages to suit your wedding celebration from a simple elopement to all-day wedding photography and or video.

Located up on top of the Rock of Gibraltar itself, this is a stunning venue that is sure to impress your guests. Accessible by a scenic 6-minute cable car ride or a 20-minute car drive, the venue boasts circular glass walls overlooking the blue expanse of the Bay of Gibraltar, Spain and North Africa beyond.

The Mons Calpe Suite is a venue which speaks for itself. The panoramic views coupled with the Top of the Rock experience, it is the perfect wedding venue which we assure neither you nor your guests will ever forget. The Mons Calpe Suite wedding venue was awarded the prestigious UK magazine Destination Weddings and Honeymoon Abroad 2015 Gold Award for the Best Wedding Venue in the Mediterranean.

The Mons Calpe Suite is one of Gibraltar's approved venues where civil marriages and civil partnerships can be held. Where better to celebrate your marriage in Gibraltar but on the Rock itself where you will feel like you are top of the world? Take your wedding guests to new heights to the top of the Rock of Gibraltar for a uniquely memorable wedding experience …. just picture the photographs!

---
If you think you would like me to be your wedding photographer or videographer for your wedding venue in Gibraltar then I would love to hear more about you both and what you have planned for your wedding day or Elopement? Please use the WhatsApp icon below or the quick contact form below and I will get back to you.
---
To book your Mons Calpe Suite wedding package and more for information contact:
---
Address: Top of The Rock, Cable Car Top Station, GX11 1AA
Telephone: +350 200 12743
Email: reservations@monscalpesuite.com
Website: https://www.monscalpesuite.com/
---
Mons Calpe Suite Wedding Photography
30/10/2011