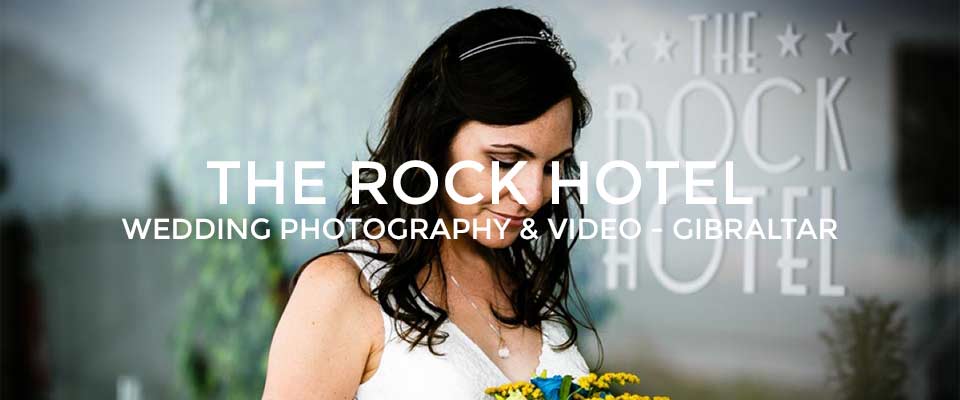 The Rock Hotel Gibraltar Wedding Photography and Videography
Probably the most famous hotel in Gibraltar. With celebs photos full across some of the reception walls, you can instantly tell the moment you walk in that it is a perfect venue for a wedding. The Rock Hotel Gibraltar wedding venue is licensed for civil weddings and with its stunning vista and proximity to the Botanical Gardens, it makes a great venue for your elopement or wedding day with uninterrupted backdrop views of Gibraltar's magnificent Mediterranean seascape.
The hotel can offer both indoor and outdoor function spaces. We offer excellent accommodation rates for your guests and in most cases complimentary accommodation for the bride and groom.
The hotel boasts a brand new and unique venue for weddings to take place – The Khaima. This is an authentic and spacious Moroccan themed marquee located in the grounds of the Rock Hotel with capacity for up to 200 guests for dinner and dancing.
You may prefer to choose the Victory Suite and adjoining Sunset Terrace boast one of the best views on the rock. The covered Sunset Terrace offers the opportunity to celebrate your ceremony in style whilst taking in the spectacular views across the bay views across to the coast of Morroco, Africa and Gibraltar's harbour and enjoying the changing seascapes of the busy bay area and the beautiful sunsets, perfect for your dream intimate wedding and suitable for smaller wedding parties of up to 40 guests.
About The Hotel
The Rock Hotel was built in 1932 and it was bought by its present owners in 1959 The Bland Group. Similar to the Singapore's Raffles Hotel, The Rock Hotel has been a favourite for royalty and the rich and famous including sir Winston Churchill, Sir Alec Guinness, Errol Flynn and Sir Sean Connery, John Lennon and Yoko Ono who stayed at the hotel and exchanged their wedding vows in one of the private rooms. The history of The Rock Hotel is part of the history of Gibraltar itself.
Today the hotel's 1930's origins are still there in the subtle colours and timeless decor which mixes elements of Gibraltar's colonial heritage with more contemporary updates.
---
Professional wedding photography at The Rock Hotel Gibraltar Wedding Venue
---
For bookings and more information contact
The Rock Hotel in Gibraltar on
---
Address: 3 Europa Road, GX11 1AA
Telephone: +350 20073000
Email: reservations@caletahotel.gi
Website: www.rockhotelgibraltar.com
If you think you would like me to be your wedding photographer or wedding videographer at the Rock Hotel Gibraltar wedding venue or any other wedding venue in Gibraltar, then I would love to hear more about you both and what you have planned for your wedding day or Elopement? Please use the WhatsApp icon below or the quick contact form below and I will get back to you.
---
The Rock Hotel Gibraltar Wedding Photographer
26/10/2012