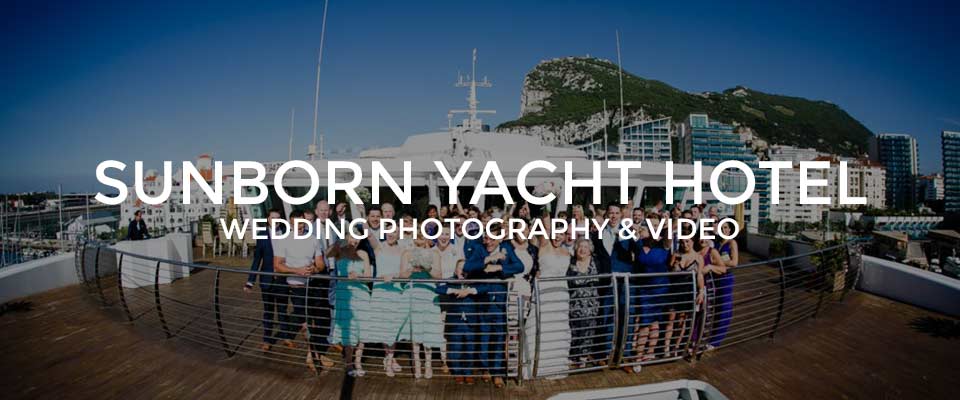 Sunborn Gibraltar Weddings – Photography & Videography
The Sunborn Hotel Gibraltar is a five-star luxury hotel and is licenced to carry out legal wedding ceremonies. The Sunborn Gibraltar weddings venue is an outstanding hotel to have your wedding day. This five-star superyacht hotel is moored in one of Europe's most exclusive locations creates a unique setting for a memorable experience. With a choice of ceremony locations and reception venues on the yacht, the Sunborn Hotel has a lot to offer wedding couples. From luxurious ballroom to a modern terrace with the most incredible views, Sunborn Gibraltar is a fairytale setting for your dream wedding day.
Permitted for civil ceremonies, the Super Yacht's Aurora Ballroom and Atlas Rooms offer formal settings with crystal chandeliers and elaborate wedding breakfast. For a spectacular alternative, there's the Wheel House Terrace with the glamorous harbour and the blue Mediterranean Sea as the backdrop for saying your vows. If you want an alternative wedding, a day with a backdrop to admire in a relaxed setting for our guests to enjoy and to have your ceremony in the glorious sunshine then the Sunborn Gibraltar surpassed anything you could have dreamed of, the Wheel House Terrace is the most beautiful place you can hold your ceremony outside on the top decks, the sea is mesmerising
The Sunborn Hotel Gibraltar weddings venue makes a fabulous and super-glamorous setting for the most special of wedding occasions. The wedding ceremony can take place onboard the yacht itself and with plenty of options to suit every size and type of event, from intimate family gatherings to full wedding day celebrations for up to 400 guests.
---
The Hotel facilities & location
From the moment you step onto the Sunborn, your guests will be allured by the impressive decor, with its very own infinity spa, outdoor pool & cocktail bar to discover and luxury accommodation in abundance your wedding experience will be truly unforgettable.

The Sunborn Gibraltar is a luxury hotel with the novel twist of taking the form of a seven-story super-yacht albeit a stationary one. Its lively marina location is within walking distance of both the airport and the streets of Gibraltar's old town. Its 189 rooms and suites impress with high-end features that include integrated touch-screen controls and striking marble bathrooms, plus most open to marina-view balconies. Dining at the two restaurants is excellent, and a rooftop pool (more like a large hot tub), casino, and spa complete an impressive package.
A Hollywood-style red carpet lining the gangway leading into the Sunborn Gibraltar certainly sets the intended tone of glamour and exclusively for this rather unique hotel. With demand for a new luxury hotel though little space to build one, the solution was this purpose-built floating hotel. Opened in 2014, measuring 142 meters, and costing nearly $200 million, it's somewhere between a cruise ship and super-yacht. While it floats and meets almost all the criteria of a sea-faring ship, it's fixed and never leaves the harbour, and it can't because it has no engines!. A glamourous, nautical vibe permeates throughout the hotel, starting with the reception's Swarovski crystal planet-shaped chandelier and continuing with a sweeping marble staircase, with polished steel and mirrored panels. A pair of large glass elevators provide views over the marina while transporting guests to one of seven floors, including the decked rooftop pool terrace with views of the Rock of Gibraltar.
The hotel is permanently moored in Gibraltar's Ocean Village Marina, a lively waterfront neighbourhood in between Gibraltar Harbor and the runway of its airport. As well as plenty of private boats and modern apartment blocks, the marina is filled with restaurants, bars, and boutiques that lend a relaxed, and lively vibe. Gibraltar's medieval town centre is around 10 minutes on foot, while the Moorish Castle and start of the nature reserve, known for its semi-wild population of macaques monkeys, is about 10 minutes drive.
Sunborn Gibraltar wedding prices
My Gibraltar wedding packages and prices cover Sunborn Gibraltar weddings and ceremonies onboard the yachts full facilities and if you require longer coverage including bridal preparations through to all-day photography or video packages then please contact me as I can put a bespoke package together for you.
---
If you think you would like me to be your wedding photographer or videographer for your wedding onboard the Sunborn Gibraltar weddings venue or any other locations around Gibraltar, then I would love to hear more about you both and what you have planned for your wedding day or Elopement? Please use the WhatsApp icon below or the quick contact form below and I will get back to you.
---
For bookings and more information contact
The Sunborn Yacht Hotel on
---
Address: 35 Ocean Village Promenade, GX11 1AA
Telephone: +350 20016000
Email: info@sunborngibraltar.com
Website: www.sunborngibraltar.com
---
Sunborn Gibraltar Weddings Photographer
25/02/2015