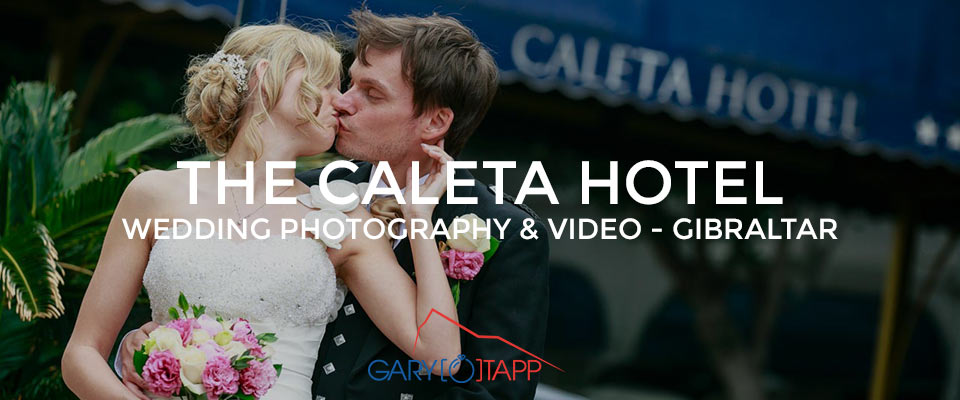 The Caleta Hotel Wedding Photography and Video
Are you looking for a Caleta Hotel wedding photographer in Gibraltar? Hello, I'm Gary Tapp and maybe you found this page because you are looking for a Wedding Photographer at The Caleta Hotel. I am based and living on the Costa Del Sol and I travel to and cover weddings in Gibraltar.
Situated on the beaches next to Catalan Bay, on the east side of the Rock of Gibraltar, sits The Caleta Hotel. This 50's art deco styled and friendly four-star hotel in Gibraltar caters to the needs of all types of travellers. Guests can enjoy a professional personal service in superb surroundings, with panoramic views of the Rock of Gibraltar and outwards to the coast of North Africa. The Caleta Hotel has been designed to offer a perfect mix of Mediterranean and contemporary style making the Caleta Hotel wedding venue a fantastic choice for your wedding in Gibraltar.
Weddings are available at the Caleta Hotel and are licensed for civil weddings and boast some of Gibraltar's most romantic locations for your marriage ceremony to take place. You may choose to be married in The Garden within the hotel grounds with a capacity for up to 50 guests. A white marquee with seating is available for your nuptials. You can follow the ceremony with a toast in the garden and some light refreshment.

The Caleta Hotel Gibraltar wedding venue has breathtaking views right across the southern Spanish coastline and Africa, situated in Catalan Bay on the Eastern side of the Gibraltar rock. It offers all the normal facilities including a two rosette restaurant and a spa for a little pre-dinner pampering. It's elegant and has very friendly staff who are only too willing to assist you at all times. It's easy to get to without having to go through town and only 5 minutes from the Spanish border.

The Caleta Hotel wedding venue is stylish and comfortable and is ideally located so that you are close enough to town to get to all the shops, restaurants and bars, yet it is far enough out of town to be quiet and relaxing.

Weather permitting, a Caleta Hotel wedding can be held on its terrace and you won't be disappointed to have your wedding photos or video with the Mediterranean backdrop.
If you think you would like me to be your wedding photographer or videographer for your wedding at The Caleta Hotel wedding venue or any other locations around Gibraltar, then I would love to hear more about you both and what you have planned for your wedding day or Elopement? Please use the WhatsApp icon below or the quick contact form below and I will get back to you.
---
---
For bookings and more information contact
The Caleta Hotel on
---
Address: Sir Herbert Miles Rd, Catalan Bay, GX11 1AA
Telephone: +350 200 76501
Email: reservations@caletahotel.gi
Website: caletahotel.com
The Caleta Hotel Wedding Photographer
26/10/2012