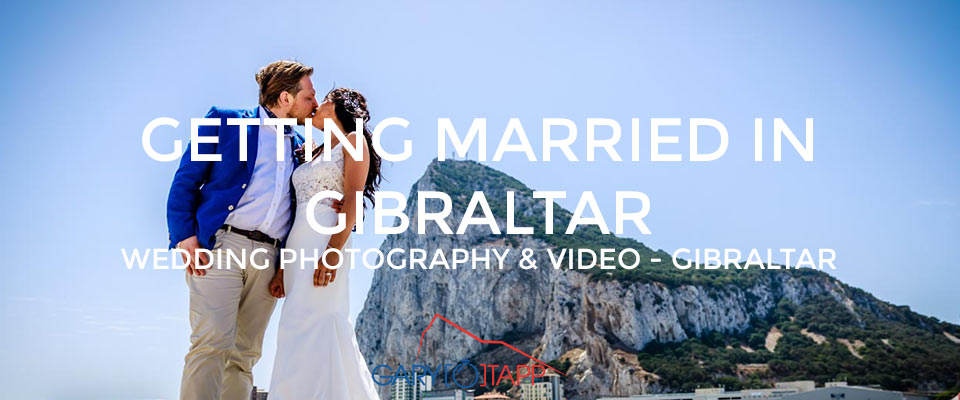 Thinking of getting married in Gibraltar?
With a little bit of preparation and planning, it, it couldn't be easier. Here's my ultimate guide to what you need to do to make your special day run smoothly. As a professional wedding videography and photographer, working for many years in Gibraltar, I know just what you need to do to ensure that you get hitched without a hitch.
Non-resident civil marriages in Gibraltar
Most people getting married in Gibraltar will be non-residents, either from the U.K., EU or elsewhere in the world. As with all marriage ceremonies, there's paperwork and in Gibraltar, there is specific paperwork to complete before you can get married. You'll need to be at the Registry in person on the day before you plan to get married and no later than 10.30 am.
Special licence
Firstly, you'll need to apply for a special licence and this is applicable for everyone: residents, non-residents and civil partnerships. This will allow you to tie the knot outside of the Registry at an approved location. It means that you can get married at a weekend and outside of office hours.
How to get married in Gibraltar
Getting married in Gibraltar needs you to create a short list of things to do. Here are the main ones:
1. Make sure that you've booked to see a Commissioner for Oaths or Notary to witness your affidavit to say that you can marry.
2. Proof of one night's residency. This could be a paid hotel bill, for the night before or after, or a written statement by a Gibraltar resident to confirm that you stayed with them.
3. Some documents, originals not copies, to prove that you are who you say you are and you're free to marry. These documents are:
Passport or National ID
Birth certificate
If you've been married before, then add to this:
Proof of your divorce. The original stamped from the court
For women: previous Original Marriage or Civil Partnership Certificate
If you're a widow/widower:
Previous Original Marriage or Civil Partnership Certificate
Original Death Certificate of your late spouse or civil partner
Getting Married in Gibraltar for Foreigners
If you've ever changed your name, you'll need to provide the official proof. If your documents are in a language other than English, they'll need to have a certified translation. This is especially important if you're getting married in Gibraltar as foreigners from a non-English speaking country. Remember, getting married in Gibraltar for foreigners outside of the EU or U.K. might require a visa so do check.
If you are a member of the armed forces you will also need to produce your Commanding Officer's consent in writing.
The registrar may ask you for proof of your current country of residency too, so make sure that you bring this proof along too. It might seem a bit daunting but with our years of experience, we here at Gary Tapp Wedding Photography are here to advise. After all, getting married in Gibraltar or anywhere else is one of the most important contracts that you'll ever enter into. The Gibraltar government website is also user friendly and offers practical advice:
Small details – Just a few more pointers to help you to have the perfect day.
If you fly into Spain, Malaga being the nearest airport after Gibraltar, make sure you give ample time to cross the border. There's no set pattern to how busy it'll be. Assume that weekends or Christmas attract a lot of traffic with Ex Pats living in Spain keen to stock up on tax free gifts and U.K. supermarket treats.
Try to get to the Registry early, the day before and be there no later than 10.30am. Gibraltar is a popular place for weddings and you'd probably prefer to being relaxing taking in the sights, than stood in a lengthy queue.
If you need witnesses for the Registry ceremony , most of the people waiting to do the same are happy to oblige. After all, you're all in the same boat! Remember, in these times of COVID, the Registry will be limited to you and your witnesses and social distance will apply. This is an ever moving situation and you'd be as well to check prior to the day. On the plus, Gibraltar has some of the lowest cases of COVID in the world
---
Legal information about getting married in Gibraltar

If you plan on getting married in Gibraltar and you are a non-resident, I've put together some important information below that provides information about civil marriages in Gibraltar. If you have any additional questions or concerns, you can always reach out to us and we will do our best to answer your questions.
CIVIL MARRIAGES IN GIBRALTAR FOR NON-RESIDENTS
1. THE LAW
When getting married in Gibraltar, the civil marriage between a man and a woman is provided for under the Gibraltar Marriage Act. Under its provisions it is possible, by means of a Special Licence granted under Section 13 of the Act, for non-residents to marry in Gibraltar without needing to comply with any statutory residential requirements. It also enables ceremonies to be conducted at approved locations outside the Registry.
2. GENERAL CONDITIONS FOR MARRIAGE AND DOCUMENTS REQUIRED
In order to get married in Gibraltar, you must be able to satisfy the Registrar that you are free to marry.
(A) GETTING MARRIED IN GIBRALTAR – SINGLE PERSONS
In the case of single persons, other than United Kingdom nationals. This may be done by obtaining a single status certificate or a certificate of no impediment from the authorities of your country of origin or normal residence. Where this cannot be obtained, formal confirmation from the relevant authorities to the effect that such certificates are not issued is required
(B) WIDOWS AND WIDOWERS
If you are a widow or widower, you must furnish: –
(1) your birth certificate;
(2) the death certificate of your spouse;
(3) if the death certificate does not name you as the widow or widower of the deceased, it is also essential that you produce your marriage certificate.
(C) PERSONS WHO HAVE BEEN PREVIOUSLY MARRIED
If you have been previously married, you must submit:
(1) Your birth certificate
(2) Your previous marriage certificate
(3) Your final and absolute divorce decree or certificate of annulment of your previous marriage
(D) CHANGE OF NAME
If you have changed your name by deed poll or in some other way, you should produce your change of name deed.
(E) GETTING MARRIED IN GIBRALTAR – OTHER DOCUMENTATION NEEDED
IRRESPECTIVE OF YOUR STATUS YOU MUST, IN ADDITION, PRODUCE YOUR BIRTH CERTIFICATE AND PASSPORT (NATIONAL IDENTITY CARD IN THE CASE OF E.U. NATIONALS). THE REGISTRAR, IN HIS DISCRETION, MAY ASK YOU TO PRODUCE OTHER DOCUMENTS, WHICH HE MAY CONSIDER NECESSARY. FOR EXAMPLE, IF YOU ARE A NON-EEA NATIONAL RESIDING IN THE EEA, HE MAY ASK YOU TO PRODUCE YOUR RESIDENCE DOCUMENT.
(F) MEMBERS OF THE ARMED FORCES
If you are a member of the armed forces you will also need to produce your Commanding Officer's consent in writing.
(If you were born / or married in the United Kingdom or your spouse passed away in the United Kingdom and you do not have copies of the relevant birth, marriage or death certificates you should contact the General Register Office (GRO) at www.gro.gov.uk/gro/content/
3. GETTING MARRIED IN GIBRALTAR SUBSEQUENT FORMALITIES
Once your provisional booking has been taken you will need to submit the required documentation and pay the prescribed fees. The time within which you will need to finalise these arrangements is: –
(a) within 3 months from the date of the provisional booking, if the marriage ceremony is to take place later than 6 months from the date of the booking; or
(b) within 1 month from the date of the provisional booking, if the ceremony is to take place within 6 months from the date of the booking.
You will be asked to pay the fees once the documentation has been examined and accepted. The fees are non-refundable.
At this stage documents may be faxed or emailed. Certified translations must accompany documents which are in a language other than English. However, before the marriage licence can issue and before the wedding can take place, the original documents need to be submitted to the Registrar and accepted by him.
4. ATTENDANCE IN PERSON
Where the booking is confirmed, the next stage will be for you to attend our offices not later than 10.30 on any working day prior to the date of the ceremony to complete the paperwork and apply for a Special Licence. This may be done as early as a maximum of 3 months in advance, or as l4ate as the day before the date of the ceremony. The office is open to the public between the hours of 9.00 and 12.45 (mid September to mid June) and between the hours of 9.00 and 13.00 (mid June to mid September).
At this stage you will need to produce the ORIGINAL of all the documents previously submitted. In the case of a copy of a certificate, it must bear an original seal of the court or registry that issues the certificate, or be certified as a true copy of the original by a notary public, British Consul or other person entitled in law to certify the authenticity of the document.
You will be required to complete affidavits and sign them before a Commissioner for Oaths or Notary Public of your choice in Gibraltar. You should remember that the Commissioner for Oaths or Notary Public will charge you for his services.
5. THE MARRIAGE CEREMONY
Couples will need to make arrangements for themselves and their guests to be at the marriage venue before the ceremony is to take place. If the marriage is to take place at an outside location, they will also need to arrange for transport to convey the Registrar to and from the marriage venue.
Before the ceremony commences, you will be asked for identification (i.e. your passport or national identity card). You will also need to provide two witnesses for the marriage. Your witnesses may be related to either of you and/or to each other. They may be friends or colleagues but they must be able to speak and understand English and be over the age of 18.
The ceremony is conducted in English. If you do not speak English, you must arrange for and provide your own interpreter. The Registry can help you with this. You should advise the Registry before the marriage booking is confirmed that you need the services of an interpreter.
6. IMMIGRATION REQUIREMENTS
If you are not an EEA national you may require a visa to enter Gibraltar. The Registry will be able to advise you on whether or not a visa is required. If you do require a visa, you will need to apply for one at the British Embassy in your country of normal residence. If you are in the UK, you will be able to obtain a visa from the visa section, Identity & Passport Service, Globe House, Eccleston Square, London SW1V 1PN. You must bear in mind that unless you have guaranteed returnability to either your country of normal residence or your country of origin, the issue of a Gibraltar visa cannot be authorised.
You should also be aware that, like the United Kingdom, Gibraltar is not part of Schengen. Therefore if you intend to travel to Gibraltar through Spain and return the same way, you should ensure that if you require a Schengen visa, this is valid for more than one entry.
Non EEA nationals who are to marry British Citizens and intend to settle in the United Kingdom with their spouses will need to obtain settlement visas in order to do so irrespective of whether they are visa requiring nationals. Non-EEA nationals in the same situation may also obtain such a visa. You should apply for the visa at the British Embassy in your country of normal residence. If you are already in the UK, you should contact the Border and Immigration Agency of the Home Office at www.ind.homeoffice.gov.uk for information on your immigration status.
Getting Married in Gibraltar
17/06/2009