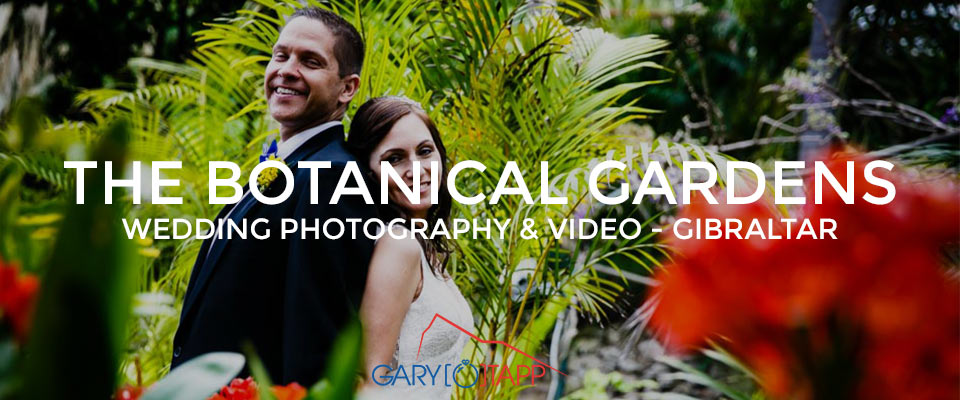 The Botanical Gardens Gibraltar wedding venue is one of the best places for your backdrop for your wedding photos with the stunning green and flowered backgrounds. Having your wedding in Gibraltar Botanical Gardens is one of the most popular venues for an al-fresco wedding, The Dell is a secluded, romantic, Italian garden hidden away in the depths of the Botanical Gardens. Here, you may be married in an intimate ceremony surrounded by tropical plants and flowers, which provide a gorgeous backdrop for your wedding photos.
Botanical Gardens Gibraltar Wedding Photography and Videography
The Alameda Botanic Gardens have an enviable position on the lower slope of the Rock of Gibraltar, with views of the Mediterranean below. It was originally created as a recreational area for off-duty British soldiers, Gibraltar Botanic Gardens (The Alameda) welcomes tourists and locals wishing to escape the heat or simply take a leisurely stroll. British Governor George Don commissioned a walking path around the main square in 1815, which was later expanded into a network of paths and terraced beds. In the first half of the 90s, The neglected gardens underwent a renovation, at which point a zoo was added to the site. Apart from the four howitzer cannons guarding the bronze bust of General Eliot, the gardens boast an open-air theatre that can also serve as a wedding venue.

If you think you would like me to be your wedding photographer or videographer for your wedding at the Botanical Gardens Gibraltar wedding venue then I would love to hear more about you both and what you have planned for your wedding day or Elopement? Please use the WhatsApp icon below or the quick contact form below and I will get back to you.
For more information or to arrange your wedding in Gibraltar Botanical Gardens contact the Alameda Gardens on events@gibraltargardens.gi or +350 20041235 http://gibraltargardens.gi
Botanical Gardens Gibraltar Wedding Photographer
30/10/2011