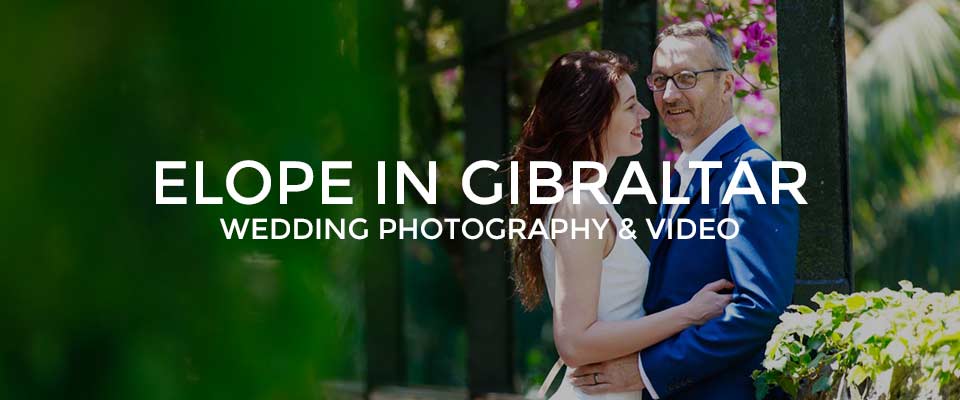 Gibraltar Elopement Photography & Videography Packages
Are you planning to Elope in Gibraltar? Are you searching for a Gibraltar elopement photographer? Hello, I'm Gary Tapp and I am based and living in southern Spain I travel and cover weddings all along the Costa Del Sol and Gibraltar. An elopement can take away all of the stress and slash wedding costs too with more adventurous couples are choosing to elope for their wedding instead. Whether you want a classic elopement with just the two of you or a small destination wedding, getting married in Gibraltar is a perfect option. I have Elopement Photography Packages and Gibraltar wedding packages for 2 that will suit your needs or I can put a bespoke package together for you.
Eloping is intimate and romantic, and a great way to have a low-cost wedding. Elope in Gibraltar to make the most of beautiful weather, stunning scenery, and simple requirements for getting married in Gibraltar. If you want to elope in Gibraltar there are no residency requirements and you only need to stay a minimum of one night in a hotel in Gibraltar.
Even if you're eloping, you will need two witnesses. They must be over 18, but if you want a true elopement just you both on your own without any of your family or friends, then I can be one of your witnesses free of charge. If you don't want to get married in the registry office, there are several beautiful venues for your elopement in Gibraltar. These are more suitable if you have a larger destination wedding planned, or if you want a ceremony away from the registry office.
Please take a look at my gallery portfolio below of examples of my Gibraltar elopement photography taken in and around Gibraltar. You can also view more of my work from many of the other locations in my photography and videography portfolios.
If you are interested in me being your wedding photographer or videographer for your elopement in Gibraltar, then I would love to hear more about you both and what you have planned for your wedding? Please use the WhatsApp icon below or the quick contact form below and I will get back to you.
---
Elope to Gibraltar – Professional Wedding Photography for your Gibraltar Elopement
---
Gibraltar Elopement Photographer
20/06/2020