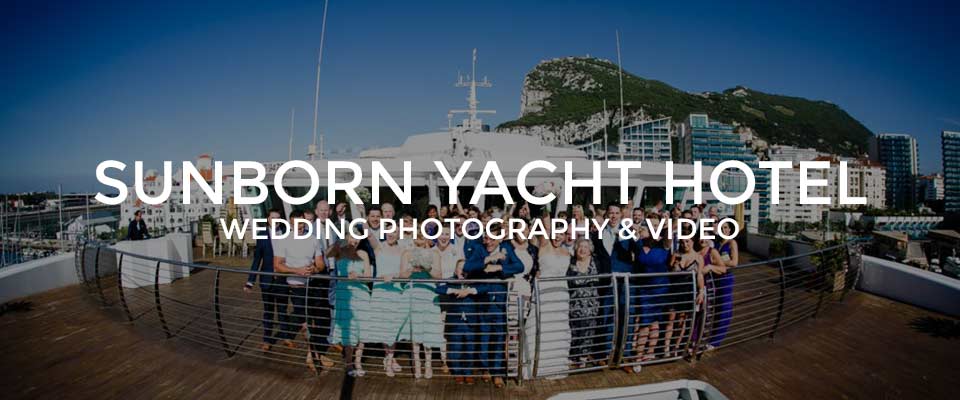 Sunborn Hotel Gibraltar Weddings – Photography & Videography
The Sunborn Hotel Gibraltar is a five-star luxury hotel and is licenced to carry out wedding ceremonies. The Sunborn Hotel Gibraltar weddings venue is an outstanding hotel to have your wedding day. This five-star superyacht hotel moored in one of Europe's most exclusive locations creates a unique setting for a memorable experience. With a choice of ceremony locations and reception venues on the yacht, the Sunborn Hotel has a lot to offer visiting couples.

The Sunborn Yacht Hotel Gibraltar makes a fabulous and super-glamorous setting for the most special of occasions. The wedding ceremony can take place onboard the yacht itself and with plenty of options to suit every size and type of event – from intimate family gatherings to elaborate celebrations for up to 400 guests.

The 142m Sunborn Gibraltar yacht hotel, which is permanently moored at Ocean Village Marina, has 189 rooms and suites, bars, restaurants, a casino and even a ballroom. For rare glamour and sophistication, this is the perfect location. The ceremony can take place on the yacht itself, providing a unique and stunning location for an unforgettable day. 
---
If you think you would like me to be your wedding photographer or videographer for your wedding onboard the Sunborn Hotel Gibraltar weddings venue or any other locations around Gibraltar, then I would love to hear more about you both and what you have planned for your wedding day or Elopement? Please use the WhatsApp icon below or the quick contact form below and I will get back to you.

For more information or to book, contact the Sunborn on +350 2001 6000 or info@sunborngibraltar.com – https://www.sunborngibraltar.com/
The Sunborn Hotel Gibraltar Weddings Photographer
25/02/2015