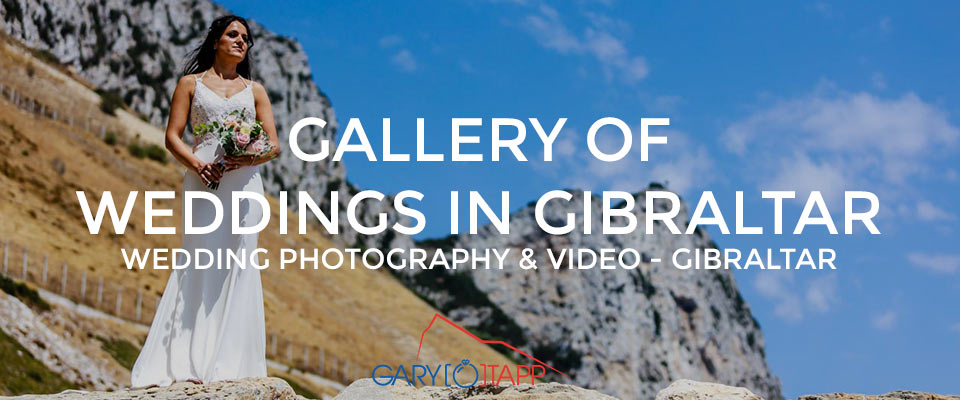 Weddings in Gibraltar: making your day unique
Gibraltar is situated enticingly on the southern tip of mainland Spain. Being a peninsula, it has panoramic sea views from many points on this compact British Overseas Territory. On one side is the crystal blue water of the Mediterranean Sea and, on the other, is the more tempestuous Atlantic Ocean. These waters meet at the Strait of Gibraltar and this thriving place is dominated by the Rock, the 425m promontory, that visible for miles around. Gibraltar is iconic and weddings in Gibraltar offer unforgettable memories with this perfect backdrop.
Below is my photo gallery all images are taken from my wedding photography coverage and bookings in venues and locations around Gibraltar.
---
Photo Gallery of Weddings in Gibraltar
Let the Rock be your backdrop!
---
Please use the tag links below to filter the wedding photos of the venues and areas in Gibraltar you wish to view.
There are no images associated with this tag.
Why have weddings in Gibraltar?
Here are some highlights for opting for you Gibraltar wedding.
The perfect climate: year-round
Gibraltar has an enviable climate with long summer days. In June, you can expect up to 15 hours of daylight making it perfect for a long leisurely wedding day filled with ample opportunities to capture those special moments through videography and photography. July and August see temperatures rise but they still remain a pleasant average of 28 degrees much more bearable than their neighbour in Andalucia where the heat can be so intense.
However, weddings in Gibraltar are not confined to the summer months. The temperature makes weddings here possible throughout the year. Even January has an average of 5 hours sunshine with temperatures remaining in double digits: a perfectly acceptable amount of time for any wedding event. The microclimate of Gibraltar gives you lots of scope when planning your special day.
Weddings in Gibraltar: the perfect backdrop
It might be small, but Gibraltar is packed with places to capture the perfect wedding images for you. It's size, with just 18 miles of roads, makes every special landmark easily accessible for you and your wedding guests. The Rock naturally dominates the vista of this British Territory and most weddings in Gibraltar will use this fascinating landmark as central to their videography and photography.
A short, six minutes cable car trip will bring you to the summit: the Top of the Rock where the views are spectacular. Imagine yourself there with the Costa Del Sol to the north, the Rif Mountains, Morocco dominating the south and the Mediterranean Sea and Strait of Gibraltar adding to the perfect photo opportunity. Weddings in Gibraltar offer memories like no other location. But it's not just the Rock.
The Alameda, or Botanical Garden, is another wonderful place for your wedding. A mere 20 minutes stroll from the Registry Office, the gardens are filled with beautiful plants and offer open space and tranquillity in the heart of Gibraltar. The Alameda is free to enter and will give colour and vibrancy to your wedding photography.
Or would you prefer something a little more dramatic as well as historic? What about the runway at Gibraltar Airport? After all, you'd be following in the famous footsteps of John Lennon and Yoko Ono who had their wedding day bliss captured here in 1969. All that's required is the permission of the police who monitor the air traffic and you'll be set to create this iconic image.
Perfect packages
Weddings in Gibraltar are something quite special and I'd love to present you with spectacular videography and photography to compliment your perfect day. My weddings Gibraltar packages provide stress-free organisation, design and style lets you simply enjoy the moment. Perhaps you fancy the excitement of an elopement to Gibraltar or a day filled with family and friends. Whatever your style or budget, my weddings Gibraltar packages will offer something that exceeds your expectations.
---
Weddings in Gibraltar – Photo Gallery
17/06/2009